As an entrepreneur of restaurants (Subway and Papa Murphy's) getting into Natural Health was never on my radar. It was when in one year my son and best friends both became very sick. My son, Lyme Disease and best friend stage 2 breast cancer.
I put on my research cap and went to town day and night trying to figure out solutions for them and realizing an entirely different world of what we are taught health is. Surgery and drugs are all I really new. Luckily I had friends who were chiropractors and my mom had started to take supplements to help some of her symptoms. So I wasn't completely in the dark.
Through these trying times I decided to go back to school and study nutrition, natural health, digestive health and energy modalities to name a few. Then it was suggested I go back to school to become a Naturopathic Doctor. After 3 years I joined forces with some amazing women to open the HopeWell Healing Center. Ideal Self Today now works out of that healing center.
Our services have been dictated by the need of our clients and patients. Digestive and weight issues are the highest priorities, then sleep and thyroid/adrenal problems and as then there is cellulite, skin problems and foggy brain. I specialize in digestive health and weight loss using natural healing modalities. With the over-site of our Medical Director we were able to bring the i-Lipo and i-Lipo Ultra for fat and cellulite reduction. This is so exciting for me.
In June of 2015 we were asked to co-open the Midwest market on a new revolutionary product called IDLife, Customized Nutrition. This was so exciting to be able to have this resource tool to better serve not only our clients and patients but that they could share with their family and friends with no office fee. Please take your assessment and get your free consult to review! We give you Healthy Simplified!
I am so blessed to be able to serve people who want to better their health naturally. Too many people jump to the quick fix of medication but that will not solve the underlying problem. You must supplement your diets even if they are good! Our food does not offer the needed nutrients. Don't believe me? Just look around. How many children's hospitals were there in 1980? How many people did you know with cancer in 1980? In 1980 did you know what diabetes was or know anyone who had "it"? Since the 1980's regulation has made it so easy for marketers and drug companies to misinform us. Medications serve a purpose but they are not the cure! Our goal is to support our clients needs through nutrition, diet, emotional and physical means!
Personally, I love being home with my wonderful husband and our amazing dogs Jet and piper. Our children are all out on their own and doing well. We enjoy boating, social fun with friends, visiting our children around the country and a glass a wine on our deck overlooking the beautiful country of Lake WI.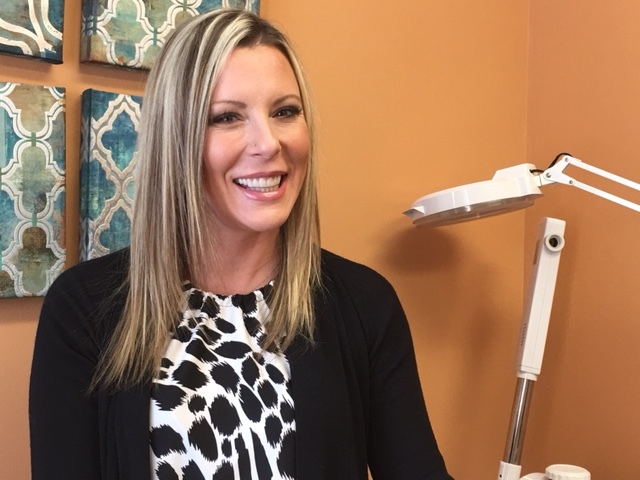 Licensed Aesthetician. Amy suffered from severe acne during her teens. She has a passion for helping people of all ages with their skin concerns, especially those teens who are dealing with acne and scarring. She understands the devastating emotional aspect that irritated skin can have and customizes plans for anyone at any age.
Amy believes it is never too late to improve your skin.
She specializes in Derma Planing, Medical Grade Peels, Micro Needling, AKA Micro Channeling, Permanent Makeup tattooing, exercise, diet and so much more!
Meet our Medical Director
Dr. Stacy Kaiser has her license to practice medicine and surgery in the state of Wisconsin.
Following her graduation from the University of Minnesota with a Chemical Engineering degree she decided to continue her education in a warmer climate. It was in San Antonio where she received her Doctorate in Medicine. She graduated with honors at The University Of Texas Health Science Center. She received her top choice for residency at the Milwaukee College of Medicine at Froedtert.
She has a strong sense of treating the whole person. She loves having the ability through modern technology to supplement and bring out a natural beauty from in each of her clients. She is certified in many laser procedures including skin rejuvenation, vein and hair removal, as well as botox and fillers.
She loves to spend time with her family and friends.